At the HIM group, we celebrate our work as artfully as we do our research! Marking the end of another year of hard work with the coming of late summer, the HIM group embarked on an artistic journey to The Hague. With full minibuses and high spirits, the HIM group visited the Escher museum in the old royal place in The Hague. Once inside, they were greeted by revolutionary artworks of the forward-thinking graphic designer M.C. Escher. The visit was made all the more special by the guided tour that was given by two PhD candidates within the HIM group members, Tom Bruining and Mert Astam. Their prior studies into Escher paid off as the HIM group learnt all about what made M.C. Escher and his artworks unique, ranging from his focus on extreme perspective to his use of mathematical tessellation methods.
Even out of the lab, the analytical minds of the HIM group did not stop whirring. After a full morning of analyzing the liquid-crystal-like alignments and dimensions in Escher's woodcuts and identifying the unit cells in his tessellating artworks, the group enjoyed a break in The Hague's iconic Buitenhof area. Even then, the HIM group was busy; Mert and Tom had prepared them a quiz to revise what they had learnt in the museum! The competition was fierce within the group, as there was a prize to be won! After 15 minutes of focused discussion between competing groups, the winners emerged and earned the right to be named the HIM group's Escher Champions of 2023! They were also awarded a plaque so that none may forget their achievements.
The HIM group's summer adventure did not end there, as the group had another artistic surprise waiting for them. Under the guidance of the Sea.Tyle ceramics company, the group produced their own interpretations of Turkish Cini ceramics. The focus the HIM group members put into creating their artworks was immense. They even all ignored the call to the barbecue for dinner! Nonetheless, when the masterpieces were complete, the group rounded the day off with a barbecue and joyful conversation. And thus, the spirit of the HIM group is upheld, both artistically and morally! We are all looking forward to another year of great achievement to celebrate next summer!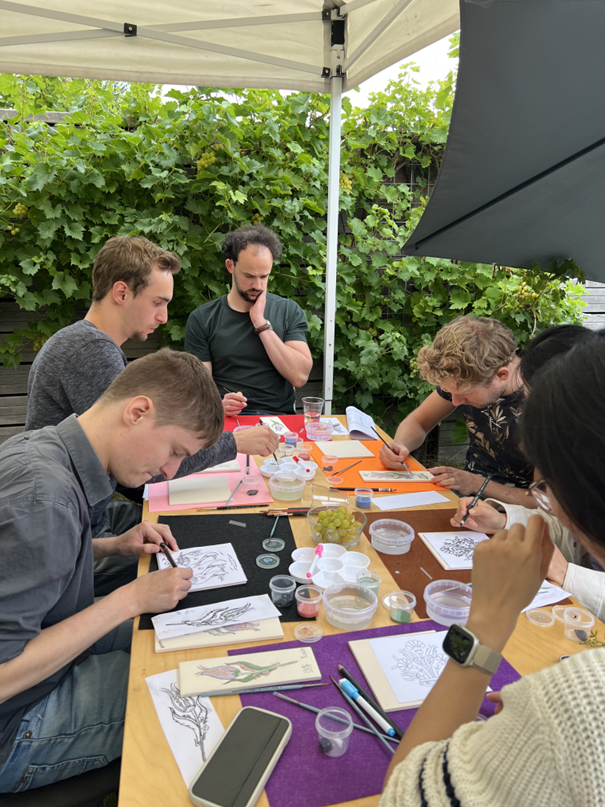 Ceramics masterpieces in the making at Sea.Tyle Ceramics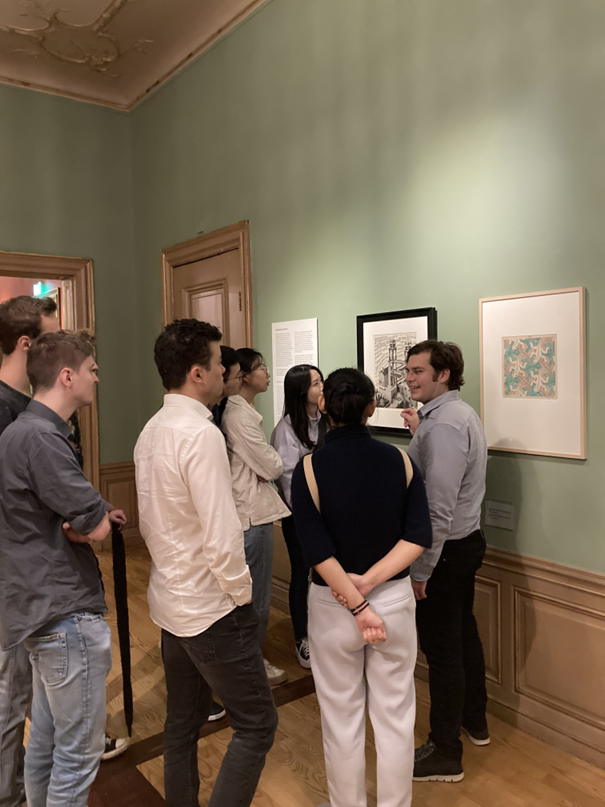 Mert and Tom give the HIM group a guided tour of the Escher museum.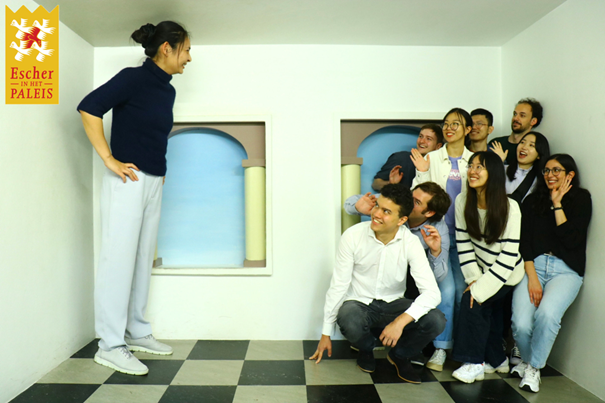 In the HIM group, we achieve things many would not think possible; like making Danqing the tallest in the group!
Correspondence by Mert Astam